Best Webinar Software Overview
Looking for reliable and best webinar software? We have a list of the best webinar platforms. 
Webinars have taken the place of in-person seminars as the Covid-19 pandemic got worse around the world. According to Global Webinar Statistics, almost 75% of businesses rely on online events or web seminars to generate leads with regards to B2B (business-to-business). Nonetheless, when it comes to B2C (business-to-consumer), it is around 70% – 77%.
However, opting for proper online webinar software is hard as issues may occur anytime during the online event. It could be a download issue, slow network connection, non-high definition video, unclear audio, and many more. While choosing a webinar software, ensure to consider the following things below: 
How many individuals can join the webinar?
Is the webinar software fulfilling your needs? 
Are the audio and video quality satisfying?
How difficult are the plugins for the participants? 
Does the webinar software have cranky downloads & extensions?
Best Webinar Software
WebinarJam
WebinarJam is among the most well-known webinar software available today. This webinar platform is cloud-based. Wherein, you don't have to download the software. Nonetheless, it offers a straightforward, easy-to-use interface for newbies.
This webinar software has all the features people want in a web seminar, WebinarJam comes with live chat, HD video, virtual whiteboards, private messaging, numerous presenters, polls, Powerpoint & Keynote integration, as well as Facebook & YouTube Live streaming. Additionally, it integrates with huge email providers and other apps via Zapier.
Features:
Built-in autoresponder
It provides awesome customer support
Social media integrations
Automatic recording
It can handle numerous attendants easily
The platform is compatible with different browsers and OS (operating systems)
It lets users incorporate polls & surveys with their webinar
Very easy to use
Has a user-friendly interface & dashboard
In addition, you can set up the process quickly; it takes about 1 minute to set it up
WebinarJam Pricing
Basic Plan
$499 a year
2 presenters
2-hour limit each webinar
500 attendees
14-day $1 trial
Professional Plan
$699 a year
4 presenters
3-hour limit each webinar
2,000 attendees
The Panic Button
24/7 live room
14-day $1 trial
Enterprise Plan
$999 a year
6 presenters
4-hour limit each webinar
5,000 attendees
Webinar control center
The Panic Button
24/7 live room
14-day $1 trial
EverWebinar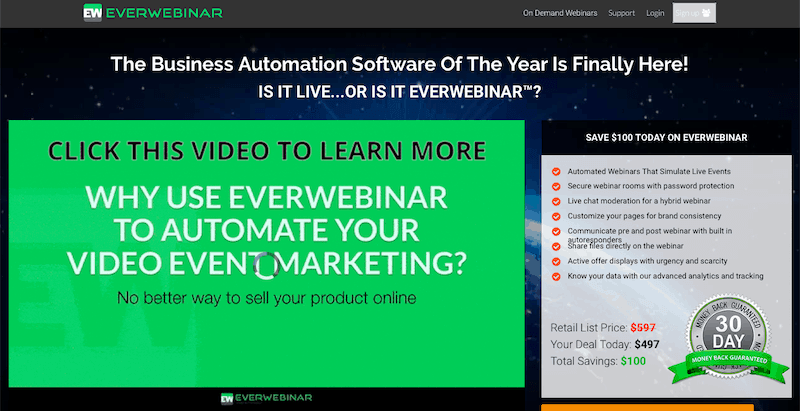 EverWebinar is one of the well-known webinar software built straight into WebinarJam. However, it is sold in a bundle or separately. This webinar software is great for small & medium businesses with a goal to generate leads and increase sales via online events. Many big brands trust EverWebinar, such as Podia, AppSumo, and many more.
Features:
One-click service switch between EverWebinar & WebinarJam
Performance stats in real-time
It lets users fake their audience count
You can convert previous live events into evergreen events
Just-in-time web seminars that start immediately upon registration
It comes with an advanced scheduling system, helping users block out unavailable dates
The platform comes with a time-zone auto-detection – users around the world will have no difficulty 
Additionally, it has unlimited free hosting through cloud-based servers
Pricing
14-day free trial
Monthly Plan – $99 a month
Yearly Plan – $42 a month
Biennial Plan – $35 a month
Livestorm
Livestorm is ideal for when a person has multiple individuals work jointly on a presentation. This platform lets you easily invite any individuals to join you. You can view data & insights collected from sessions in the dashboard of the Livestorm. This allows you to keep an eye on registrations, attendees, and visits. As a result, teams can enhance and optimize their strategy.
Features:
Offers access to highly flexible webinar themes 
It has an easy set-up process.
Provides interactive chats with questions, polls, and many more for a great customer experience.
The platform is great for product demonstrations and meetings to eligible leads and enhances the sales process
Integrate & analyze webinars
Nonetheless, the platform provides a superb automation 
Pricing 
Livestorm provides Webinar Basic for free, Thus you can test the webinar software with up to 10 live participants. Nonetheless, the Webinar Premium plan is available for $99 a month – up to 100 live attendees. 
Demio
Demio combines extremely well the lead generation marketing tools & no-download web seminars. This platform delivers real-time High Definition streaming video. Demio is an aesthetically appealing webinar service. Nonetheless, you can customize almost everything to perfectly match your brand.
Features
Cloud-based webinar events & recordings
It comes with polls, chats, handouts, and an amazing waiting room experience
Provides built-in insights & analytics
You can easily integrate the platform with other marketing tools
However, it offers event reminders & email automation 
Pricing
Demio offers a 14-day free trial that allows you to try all the platform's features. 
Basic Plan: $34 a month – up to 50 participants
Growth Plan: $69 a month – up to 150 participants
Business Plan: $163 a month – up to 500 participants
Zoho Meeting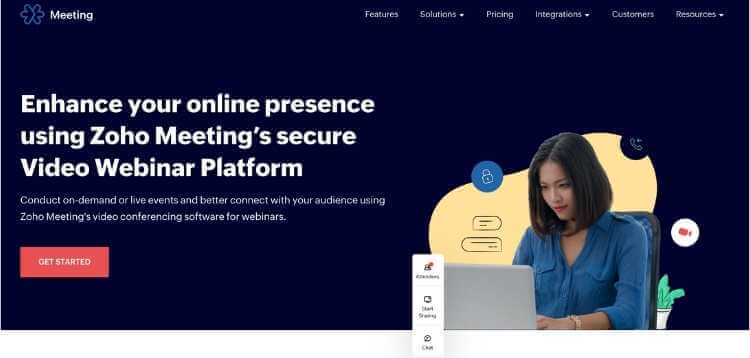 Zoho Meeting is extremely easy-to-use webinar software. It is ideal for small and large businesses. Zoho Meeting is also ideal for important remote support, app-based demos, meetings, and team collaboration.
Pricing 
The free version has unlimited meetings up to two persons and unlimited virtual meetings up to 10 participants
Premium meeting costs $10 a month – up to 100 attendees
Nonetheless, the premium webinar costs $19 per month for 25 participants
WebinarNinja
WebinarNinja is a great all-in-one webinar platform. It is trusted by numerous companies like Baremetrics, AppSumo, and more. This webinar platform provides all the tools people need doing any type of web seminar. However, you can use the WebinarNinja whether you are a beginner or a seasoned pro in the webinar world. 
Features
You can create any type of online event or webinar – automated, live, series, hybrid, or summits
It is a cloud-based platform, so participants can join in on any internet browser without downloading any software
Users can generate eye-catching online seminar decks with the platform's professional templates as well as page designs 
In addition, the webinar software is available with tons of marketing tools
Pricing 
WebinarNinja is up for grabs at 3 price points. The Pro plan will cost you $79 a month – allows 300 participants but does not come with hybrid webinars. WebinarNinja's Plus plan will cost you $129 a month for 500 participants. However, the platform's most high-priced plan (Power) will cost you $199 – up to 1000 live webinar participants. Furthermore, each plan grants limitless participants for recorded online events or webinars. 
LiveWebinar
The LiveWebinar is a cloud-based online event software that can host more than 1000 attendees. It has more than 42 data centers and more than 99% service-level agreement (SLA). You don't need to download & install the webinar software or app to join or conduct webinars. Webinars or online meets can be done directly from a web browser. However, you can also embed all web seminars or online events into your website.
Features:
It comes with a WhiteBoard feature that helps users express their ideas. Users can invite their viewers to use the WhiteBoard feature.
You can add Prezi forms in your online meets or webinars
Users can split their main room into tiny breakout rooms
It allows you to host up to 1000 participants
Additionally, its freemium allows you to host up to 5 participants
Pricing
The free version allows up to five participants
Pro plan costs $11.99 a month – 100 participants
Business plan costs $95.20 per month – 500 participants
However, it also has custom pricing plans for more than 1000 participants
My Own Conference
My Own Conference is a robust in-browser software for webinars, video conferences, or online meetings. It can host up to 10,000 participants. You can access the MyOwnConference platform from any Android device or web browser with amazing features. The webinar software comes with Q&A, 16 languages, screen sharing, live chat, whiteboard, quizzes, cloud recording, and lots more. Nonetheless, its free account can host up to 20 attendees.
Features
With MyOwnConference, up to ten individuals can broadcast online conferences & webinars at the same time
You don't need to download the software
16 languages interface for multilingual spectators
Automatic follow-up emails
Automatic invitation and follow-up emails
Nonetheless, it provides a robust webinar marketing tool, such as a call to action
Pricing
The My Own Conference webinar software is free for 3 broadcasters and up to 20 participants. Also, the free plan comes with 500MB of storage & standard High Definition quality.
Premium plans scale depends on the number of participants and offers access to additional storage and full High Definition videos. For instance, 60 participants cost $30 per month, 150 participants cost $51 per month, and 1,000 attendees cost $250 a month.
EasyWebinar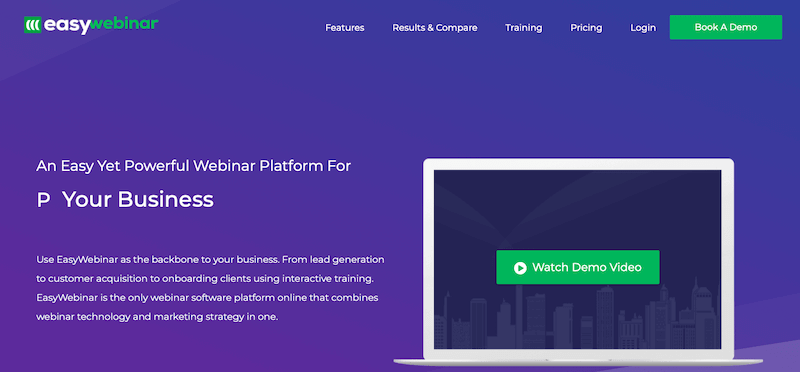 EasyWebinar successfully combines marketing strategy & webinar technology. Nonetheless, it offers a complete solution for all types of webinars – live, automated hybrid, etc.
Features:
You can screen-share High Definition videos
Basic Plan can host 100 participants
Interactive live chat
WordPress integration
You can integrate the software to YouTube Live for limitless live streamers
It comes with a mobile app & chat features
Built-in analytics
Integration with well-known tools such as GetResponse, MailChimp, and lots more
Pricing
The standard package costs $59 per month – it will be billed yearly at $708
Pro plan is $90 per month
Enterprise plan is $349 per month
For more than 10,000 participants, you can connect with them for quotes
GetResponse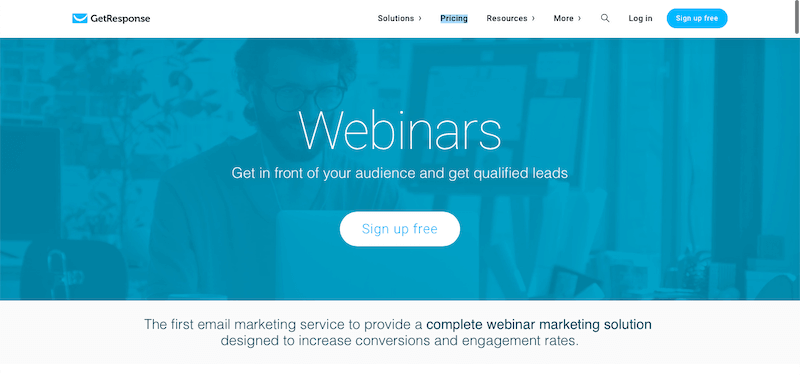 GetResponse is an all-in-the-box webinar platform that includes not only webinar services but also various marketing tools. This webinar software comes with custom emails, auto-responders, a list segmentation feature, and many more. However, with the GetResponse webinar platform, you can have an email database as well as webinar tools.
Nonetheless, the account holder will schedule webinars or online events for the participants. The account holder sends the reminders to subscribers and can share the webinar or online events on social media. Additionally, you can use the registration feature to gather new emails and to transmit to the participants' thank-you messages.
Features
You can integrate it with YouTube for streaming videos
In-depth reporting
Whiteboard integration for drawings & notes
Detailed reports
Desktop sharing
It comes with polls & surveys for feedbacks
Pricing
GetResponse offers a free 30-day trial. Subscription Plans start from $49 a month – up to 100 attendees. Nonetheless, its extended plans will cost $165 a month – up to 500 participants.
Crowdcast
Crowdcast is an amazing live streaming service for webinars, courses, Q&As, online conferences, and concerts. If you are a newbie to live streaming and want to know it quickly and straightforwardly, then the Crowdcast webinar platform is ideal for you. However, the Crowdcast webinar software lets you start your first live stream in just minutes regardless of you're not a techy person. Also, Crowdcast is deemed to be an integration of live streaming & webinars.
Features
You can easily get started
It comes with an easy invite feature
Browser-based – you don't need to download the software
Go live on any Android device or PCs
It comes with a separate tab for questions & public chat
The participants can ask questions even before the event
The software is available with email & push notifications
Pricing
Starter plan $29 a month
Lite plan $49 per month
Pro plan $89 a month
Business plan $195 per month
BigMarker
BigMarker allows up to 10,000 participants at the same time with an unlimited number of broadcasters. Anyone can participate in the conversation on screen. However, the host gets awesome marketing automation tools. 
Features
Distinctive live streaming 
High Definition video & screen sharing
It comes with a custom live video experience 
Extensive combination with applications such as Hubspot, Salesforce, Zapier, and many more
More than 15 different landing page types
Stream numerous camera feeds to YouTube Live & Facebook
Deal in more than 135 currencies
SSL & HTTPS encryption
Pricing
BigMarker's 7-day free trial comes with all features of the plan but limits the number of attendees (up to 10 only).
Starter Plan
$80 a month 
100 attendees
Unlimited broadcasters
7-day free trial
Elite Plan
$160 a month 
Automated webinars
500 attendees
Unlimited broadcasters
7-day free trial
Summit Plan
$300 a month 
Automated webinars
Unlimited presenters
Webinar series
1,000 participants
7-day free trial
GoToWebinar
With GoToWebinar, you can easily organize webinars while focusing on reaching more individuals and boosting your business. Nonetheless, you just select the date for the online event or webinar, and GoToWebinar takes care of the rest.
Features
Detailed, organized analytics
Pre-recorded events
It comes with GoToMeeting Integration
High Definition video quality
24/7 customer support
Built-in polls & surveys
Automatic recording and shareable on the internet
Integration with Salesforce, Zapier,  Unbounce, & lots more
Price
7-day free trial
The starter plan is $89 a month – up to 100 participants
$199 a month – up to 500 participants
$429 a month – up to 1,000 participants
WebinarsOnAir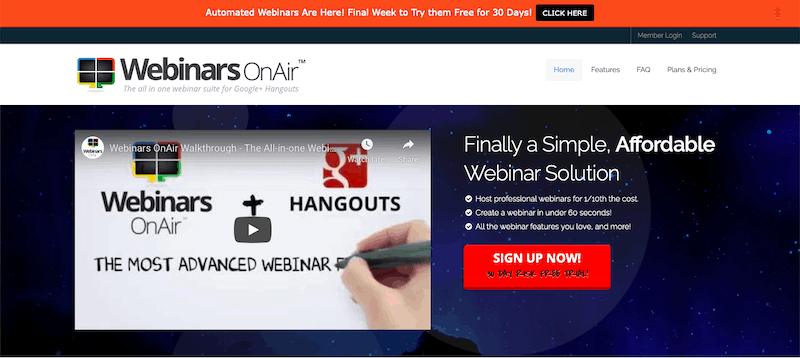 If you want an affordable webinar platform, WebinarsOnAir is ideal for you. WebinarsOnAir is available with all the features necessary to host webinars or online events excellently. Additionally, it is user-friendly for both broadcasters and attendees.
Features:
It lets you schedule a webinar or online event for up to 50,000 participants in a couple of seconds
Cloud-based hosting
Provides a Tracking Pixels feature that lets you generate laser-targeted attendees for retargeting 
One-click webinar registration
The platform provides live Q&A sessions
It provides live chats
The platform allows 10 moderators or speakers simultaneously
In addition, it provides built-in opt-in forms
Pricing
Offers a 30-day free trial
$20 per month for 25 audience
$100 a month for unlimited attendees
Livestream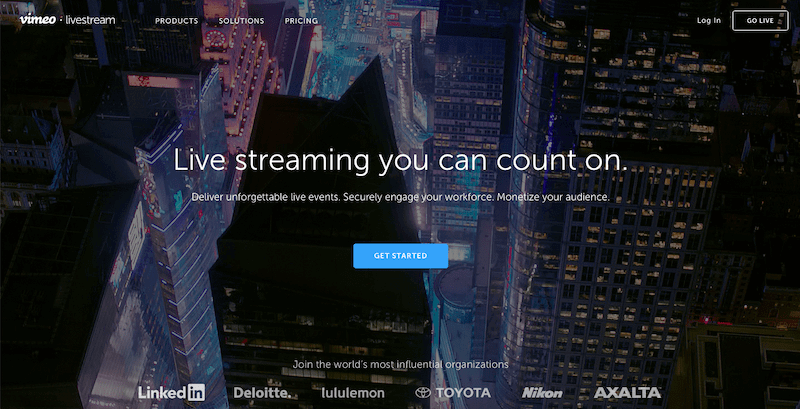 Livestream mainly caters to major businesses and educational organizations already engaged with the target audience. You can also have as many participants as you want since there's no maximum limit. Nonetheless, that's on top of limitless storage & automatic recording. You can store any type of webinar or online event you own in the cloud.
Features
Unlimited participants & storage
Events Privatization
Facebook Live / YouTube streaming
Amazing customer support
You can share the link privately
In addition, it has extensive built-in strong analytics
Pricing
Offers free 30-day trial
Unlimited participants for $42 a month
The premium plan is $199 per month and comes with robust analytics tools 
Provides a live embedding option
Enterprise clients are available for $799 per month. Nonetheless, it comes with advanced options, such as advanced privacy controls, password protection, and many more.
BlueJeans
BlueJeans is a great video conferencing software providing various products, such as BlueJeans Events. It allows webinar hosting for huge worldwide audiences. Nonetheless, you can host a webinar or online event for up to 50,000 participants.
Features
Allows worldwide BlueJeans events for up to 50,000 participants & 150 broadcasters
Provides post-event analytics reports
Manage webinar with easy controls
Event's cloud recording
Functions well from any device
You don't need to download the application
Live stream to YouTube or Facebook Live 
Pricing
Offers a 14-day free trial
The plan starts at $99 per month 
ClickMeeting
ClickMeeting is available with a user-friendly interface, which makes it easier for hosts to reach out to their clients. This webinar platform is very intuitive & well-integrated. It provides options for customized invites as well as automated online meetings. However, the webinar platform is ideal for small & mid-sized businesses.
Features:
Provides polls & surveys for feedback.
Offers chat options & interactive sessions
You can connect it to YouTube & Facebook to boost engagement
It lets you record the live sessions' audio & video. You can then store the files in clouds, and you can download them easily.
In addition, numerous presenters are allowed to present with High Definition videos.
Pricing
The rates of ClickMeeting start at $25 a month for up to 25 participants. Then, $35 a month for up to 50 attendees. Nonetheless, it also has an option for custom pricing that's perfect for enterprise clients.
DaCast
DaCast is one of the best options for individuals & companies who are just trying to conduct webinars. While most webinar platforms are based on subscription, DaCast may not be perfect for individuals & companies who only conduct live events every so often.
With Dacast, you can stream from your web page. You can also stream on social networks such as Facebook. Nonetheless, Dacast's account holder may apply geo-restrictions, charge for premium events, as well as add watermarks to the stream.
Features
Unlimited viewers
You can embed live video streams
Unlimited Channels
Pricing
The basic plan costs $19 per month – up to 300 viewers per hour 
$289 per month – up to 15,000 viewers per hour
All billed annually
AnyMeeting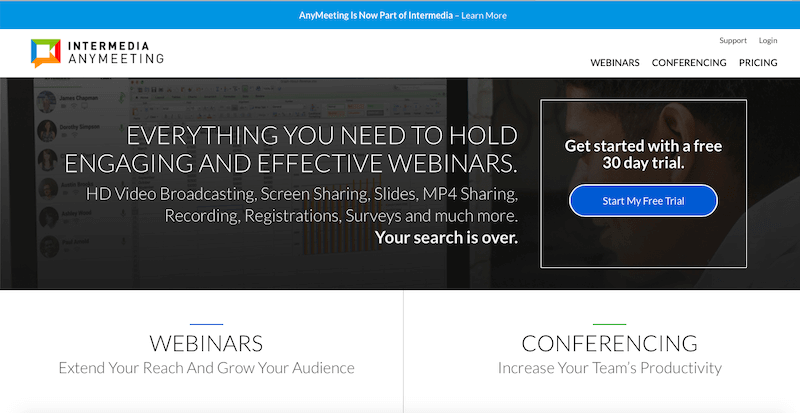 AnyMeeting is perfect for educational institutions, small organizations, & startups. This webinar platform provides essential tools to host webinars. Nonetheless,  it provides web conferencing tools to host collaborative sessions.
Features
Up to 1,000 attendees & up to 6 live speakers
It offers real-time audience chat options
The platform provides Q&A sessions, polls, & surveys
Follow-up with participants through emails
User-friendly interface.
It provides robust analytics
Pricing
Lite is $48 a month
Pro is $128 per month
Enterprise $298 a month
Adobe Connect
Adobe Connect creates visually stunning content that provides a complete story. It has an enhanced user experience along with up-to-date HTML browsers. Nonetheless, the user interface has been updated to be more intuitive, responsive, and minimalistic. 
Features:
It offers a variety of templates
The platform helps account holders create unique registration pages
This webinar software offers robust analytics
Pricing
Offers a 30-day free trial
100 seats – $130 a month
500 seats – $470 a month
1,000 seats – $580 per month
Google Hangouts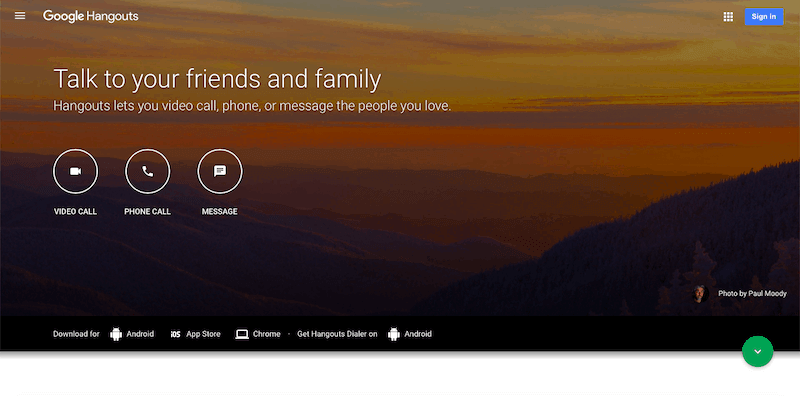 Hangouts is a free online tool that is a chunk of Google+ and functions with YouTube. However, to hold a webinar, account holders need their own YouTube channel. It is very popular in the corporate world for the reason that it allows useful features for inviting the attendees. 
Features
Up to 30 participants in the chat
Webinar or online event is automatically uploaded to the YouTube channel
You can broadcast the webinar via YouTube for an extensive audience
It has an option to change the broadcasters during the event or webinar
You can turn the video off and share the presentation
Pricing
Zoom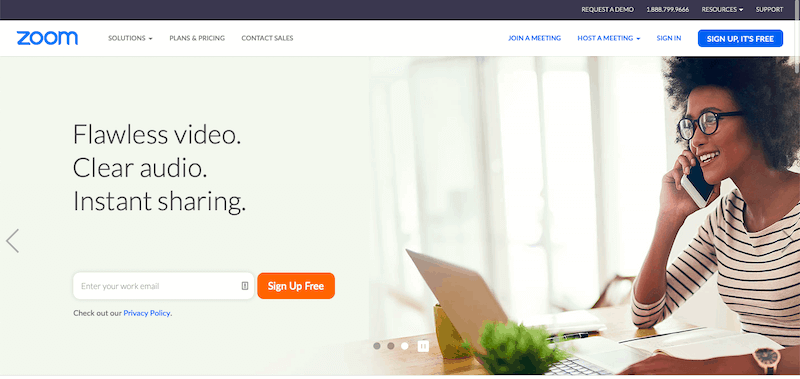 Zoom is extremely intuitive, completely cloud-based, and comes with a user-friendly interface. It provides High Definition video, app sharing, and screen sharing options. Nonetheless, you can host scheduled & unscheduled events. Also, there is a private & public chat option.
Features
Screen Share for a number of participants simultaneously
Free desktop & app sharing
Functions on all devices & platforms 
Records the entire event
Interface navigation is very easy
Pricing
It is among the best webinar software that offers a freemium plan. The free plan provides 40 minutes on the online event or webinar – up to 100 attendees. However, the Basic paid plan provides awesome features along with 1GB of cloud recording for $14.99 a month.
The Business package costs $19.99 a month –  perfect for small and mid-sized businesses. Nonetheless, the Enterprise package costs $20 a month – ideal for large enterprises.
Webex
Webex offers impressive features like a host room. It provides HD video & audio accessible on numerous devices. However, it allows participants a high level of customization to customize the host environment. Nonetheless, Webex is a cloud-based platform, thus, it guarantees data security as well as superior speed.
Features
Cloud-based webinar platform
Built-in surveys, polls, and Q&A sessions
Host up to 40,000 participants
Integrates with well-known marketing tools such as Salesforce
Offers a mobile app
PRICING
Basic Plan costs $13.5 a month – up to 50 participants
Webinar.net
Webinar.net has rolled out in 2019. It is the first web-based tool that doesn't count the event capacity. However, this platform allows a host to reach out to an enormous audience through cloud-based hosting. 
FEATURES
No event capacity concerns
Hosting transpires through the cloud
It is a great cloud-based platform
Reach out to exceptionally large audiences
It is cheap with regards to licenses
The platform loads quickly
The server works well
Pricing
Offers a free trial 
Entry-level plan – $500 a month
On24
ON24 lets you easily create, personalize, and scale engaging webinars, multimedia content experiences, & online events. Nonetheless, the difference between ON24 and other webinar software is its focus on not just web seminars, but also wide-range user conferences.
This webinar software offers the ability to generate live webinars and content hubs. However, what's amazing is that account holders can completely customize the webinar software's features to suit their company.
Features
Extremely easy to use & sleek
Amazing integration with Salesforce
Fast to generate a professional webinar
Real-time statistics reports 
Engaging features such as polling, customization options, on-demand, lobby music, and more
Cheap
The set-up process is easy
Pricing
ON24 doesn't display pricing on their website. It needs you to request a quote. However, it appears pricing depends on people's needs. The platform charges by a webinar that ranges from $1,600 to $10,000.
WebinarGeek
WebinarGeek is an extremely easy-to-use and simple webinar platform. Marketers can use the webinar platform very easily. The developers assert that WebinarGeek is the simplest webinar platform to use. Nonetheless, it doesn't require you to download the software. Thus, the webinar platform's non-complexity makes it the favorite of everyone.
Features
You can easily set it up
Perfect for marketing
The premium package comes with a personal branding feature
The account holder can add speaker notes even the webinar is transpiring
It is easy to set up.
The platform has chat support
The account holders can transmit customized emails to their viewers or non-viewers. 
Nonetheless, you will know if the recipient opened/read the email or not.
Pricing
Offers a 14-day free trial
Starter Pack costs $26.91 a month
Premium Pack costs $55.23 a month
All are billed annually
No Credit Card is needed
ElasticWebinar
ElasticWebinar is a new & fresh-looking webinar platform available today. The main feature of the webinar platform is a simple design. You can set the webinar platform up easily.  ElasticWebinar comes with all webinar interactions. However, you can customize its dynamic attendee counter to appear more realistic. 
Features
Smooth & easy to use interface
It comes with numerous landing page templates with various layouts
The platform supports High Definition video hosting
Flexible webinar scheduling
This platform has custom questions on the registration page
It comes with an urgency timer
Additionally, it has flexible email scheduling 
Pricing
$52 a month
FAQs 
What is Webinar Software?
A webinar is an internet conferencing that is a combination of the words web & seminar. Nonetheless, it runs the video conference meeting on the web. 
What Are the Benefits of Webinar Software?
The benefits of Webinar Software are cost-effective, expands your audience, improves lead generation, allows guest presenters, & helps build domain expertise.
How Does A Webinar Work?
A webinar is an online event or web seminar wherein hosts can provide a presentation to a huge audience. However, the audience, participants, or attendees can also participate. Nonetheless, they can ask questions, respond to polls, and utilize available interactive tools.
How Long Should A Webinar Last?
The average webinar or online video conference is about 45 minutes. Nonetheless, some presentations are 1 hour and beyond.
Conclusion
In this article, we have provided information on the Best Webinar Software. The information above should really help you boost your webinars or online events. 
Nonetheless, if you have any thoughts about the Best Webinar Software – Ultimate Guide, don't hesitate to let us know in the comments section.